We invite you to meet our Clergy and Laity at St. Andrew's.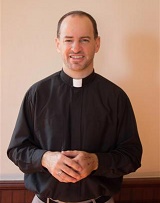 Rector
Fr. Chris Smith has lived in the Rogue Valley for over 20 years and began attending St. Andrew's in 2003. Under the direction of Fr. Creighton Barnes, he was licensed as a Lay Reader in November 2007, licensed as a Chalice Bearer in September 2010, ordained a Deacon in October 2013, and Ordained to the Priesthood on October 28, 2017. Fr. Chris is continuing to study under the direction of the Board of Examining Chaplains in the Anglican Province of America, Diocese of the West.
By the grace of God, Fr. Chris strives to be a faithful priest and servant leader to the Christian community at St. Andrew's. He believes that priests are men called to be shepherds and spiritual fathers to those whom God has placed in their care, and must always be ready to sacrifice themselves for the good of the church family. As the spiritual head of the family, the father seeks family unity by encouraging the growth of each member, and meets them on a personal basis with sincere understanding that we are all at various stages of spiritual maturity. In the parish, the father leads by administering the Sacraments, preaching the Word boldly, praying for the congregation daily, studying the Bible continually, and by speaking the truth with love and compassion.
Fr. Chris also believes that he cannot lead his family where he himself is not willing to go, and can only serve faithfully through an intimate relationship with the Lord and Shepherd of his life, Jesus Christ. A spiritual father must be an authentic, godly example of one who stands strong in the faith, a man who teaches God's Word by the manner in which he lives. A father is not "a forgetful hearer, but a doer of the work" (James 1:25). He leads and influences his family more by his character and actions than by his words, he stands shoulder to shoulder with the congregation in ministry and community outreach, and he walks alongside those in his care constantly pointing them to the One who came "that they might have life, and that they might have it more abundantly" (John 10:10).
Fr. Chris lives in Medford with his wife, Lisa, and their daughter Hope. His son, Alex, works in Medford as a physical therapist and his daughter, Ashley, is a Personal Trainer and Teacher in the Rogue Valley.
---
Laity