"I was glad when they said unto me, We will go into the house of the Lord" (Psalm 122:1)
The word Anglican simply means English, and it is used here to refer to our particular spiritual heritage that is rooted in the ancient Church of the British Isles. The Gospel of Jesus Christ was brought to Britain by Joseph of Arimathea, the disciple who, with Nicodemus, prepared and buried the body of Jesus after His crucifixion (John 19:38-42). With these first century roots, the English, or Anglican church has never been a particular Christian denomination. It began as a national church, and now that its unique model of Christianity has moved beyond national borders, the global community of Anglican churches is accurately described as one of the main branches of the One, Holy, Catholic, and Apostolic Church. This is the Church that Jesus Christ established and sustains for all people, for all time, and for every nation throughout the world.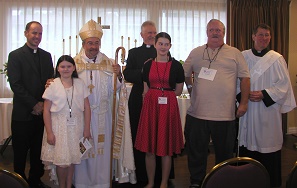 The images of His Church found in the New Testament depict covenant and community. Among these images we see a Vine with many branches (John 15:1-11), a Body with many members (1 Corinthians 12:27), and in Saul of Tarsus we find an example of a man who persecuted Jesus ("Saul, Saul, why persecutest thou Me?") by persecuting His Body, the Church (Acts 9:1-9). It is within the visible Church of Christ, where "the pure Word of God is preached, and the Sacraments be duly ministered according to Christ's ordinance" (Article XIX) that humanity is restored and redeemed. In the Church, fallen man turns away from his own will, he receives God's Holy Word, and by grace through faith is called into a sacramental life and everlasting covenant of union and communion with Almighty God.
This is the One foundation upon which the community we call St. Andrew's is built. The Anglican church has (as Archbishop Geoffrey Fisher stated) "no peculiar thought, practice, creed or confession of its own. It has only the Catholic Faith of the ancient Catholic Church, as preserved in the Catholic Creeds and maintained in the Catholic and Apostolic constitution of Christ's Church from the beginning." We believe that "the Church has no authority to innovate: it is obliged continually, and particularly in times of renewal or reformation, to return to the Faith once delivered to the saints."